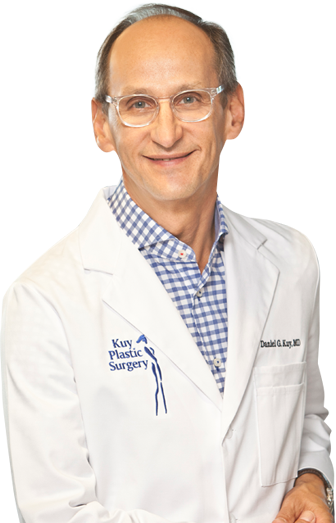 MEET THE DOCTOR
Dr. Kuy is certified by the American Board of Plastic Surgery and American Board of Surgery.
Top Doctor of Cincinnati Magazine
Daniel G. Kuy, MD FACS was named a top doctor of plastic surgery by Cincinnati Magazine for 2015, 2016, 2017, 2018, 2019, 2020 and 2021 issues. Top doctors were chosen by their peers – over 6,000 physicians were asked whom they would seek services from if "you, a family member, or a friend needed medical attention." A minimum of five votes from peers earned doctors a place on the list.
THE FUTURE OF AESTHETICS
The first and only peptide-powered, FDA-approved frown line treatment with a median duration of 6 months and up to 9 months for some patients1-9*
NON-INVASIVE PROCEDURES
Toning & Sculpting
Cellulite can be a visible frustration that is hard to deal with. Many women start to notice dimpled skin on their legs and buttocks, but cellulite can appear in other areas as well. Once dimpled skin starts to appear, it can cause self-esteem issues.
PLASMA IQ PEN
The Plasma IQ treatment is designed to tighten and firm delicate skin on the face and neck with pin-point precision.
LASER TREATMENT
Nordlys by Candela - Frax 1550 & 1940
The Frax 1550 & 1940 gives unparalleled control of thermal effects and thereby reduces the risk of side-effects. With Frax 1550 & 1940 we can give advanced treatments faster with limited downtime, and also give you greater comfort during treatment.
Frax 1550 & 1940 laser is developed for dual depths treatments of non-ablative skin resurfacing (including texture, fine lines and wrinkles), stretch marks, acne scars and surgical scars.
WOMENS HEALTH & WELLNESS
The Viveve Treatment
A nonsurgical radiofrequency treatment that rebuilds tissue. It works via a small probe which emits cryogen cooling to protect the tissue and radiofrequency waves to heat the tissue. This prompts the production of new collagen.
Office Hours
Monday - Thursday
9:00 AM to 5:00 PM
Friday - 9:00 AM to 2:00 PM
Closed on Saturday & Sundays